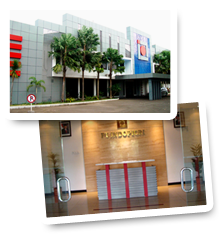 PT Indonesia PIne Chemical Industri ( PT. INDOPICRI )
PT INDOPICRI ( Indonesia Pine Chemical Industri ) was established in August 1984 when paper industry in Indonesia was embarking into a modern era. In the beginning the company commenced with 15 employees, we started our fortified rosin size production with installed capacity of 250 tons/month in a 600 sqm leased industrial building in Surabaya, second largest city in Indonesia.
Taking the advantage of abundant supply of raw material: Gum rosin and Indonesia is the second largest gum rosin ( Indonesia Gum Rosin )  producer in the world, and our product with brand name FROSIN soon was widely used and replacing import products.
As the paper industry in the 80s continued to grow remarkably, we felt our production capacity could not accommodate the strong demand of the market. In year 1989, we decided to expand our production capacity by acquiring a new land size of 20,000 sqm in an industrial district Driyorejo which is located only 25km to the west of Surabaya. Our new location is strategically situated as within the radius of 50 km we are surrounded by 10 paper mills of which total production capacity is more than 2 millions tons/year. And In September 1990, we started our production in our new factory with capacity of 750 tons/month and 35 employees.
Throughout the 80s to the 90s era, the expansion of pulp and paper industry in Indonesia showed a tremendous impact to our company, we start to add more specialty chemicals for paper mill into our product line. We build a partnership with many reputable companies from Europe and Asia countries to provide our customer with high qulity, fair pricing, and high standard of products. Maintaining our high standard, good service with good heart, we hope we can always serve our customer for better future and establish strong and honest business relationship to every customer we have.
Starting Year 1999, we have started to develop product for waste water treatment to help maintain the water clarification process for industry so they can be able to recycle their water to overcome with the problem of water supply. We also support 'Go Green" concept whereas there would be needed a good and efficient waste water treatment system to help preserve the water for the future
Gum Rosin is our primary raw material in our production and has been known that can be used widely as raw material in different industries like Adhesive,Ink, Paint, And Road Marking manufacturing. And after go through research and development process, starting year 2013 we have developed new product from Gum rosin which is Rosin Ester ( Rosin Derivative ) product for Adhesive,Paint,Ink and Road MArking Industry  and our product Brand name is IPC Resin. We are hoping the new addition of product into our production line, PT INDOPICRI will widely known and develop further so we can exist and compete against other company in many industries.